Discover Where The Silk Road Starts (+ More Fun Facts)
Where The Silk Road Starts | Take a Sneak Peek into Xi'An
Xi'an is now a well known tourist attraction in China.
The Terracotta Army, Huashan, the Muslim Quarter and the City Walls are just a part of the reason.
Another is of course the Silk Road. It has become one of China's most popular destinations for foreigners, thanks to its history and culture.
Many people know about this ancient city thanks to the many movies that have been set there.
Some of those movies include The Banquet, Curse of the Jade Scorpion, The Message, and the 2017 fantasy epic The Last Defender of Innocence.
Bu there is so much more to Xi'an than just famed movies! Today we take a look at some fascinating facts and pointers about the Silk Road.
Let's dive straight in…
Silk Road | A Brief Look at Xi'an

Silk Road | What is the Silk Road

Silk Road | Marco Polo

Silk Road | FAQs
A Brief Look at Xi'an
Many of those aforementioned movies depict Xi'an during different periods in its history.
This has helped make the ancient city famous around the world and become one of the most popular requests from our students…
"When can I go to Xi'an"
"How long does it take to get to Xi'an"
"Can you help me visit the INSERT FAMOUS ATTRACTION HERE"
Everyone loves it! In fact, as China experts ourselves we very much see Xi'an as a "mini-Beijing".
Both cities ooze culture, history and boast incredible food. Xi'an is just a little slower and more relaxed than Beijing. What's not to like?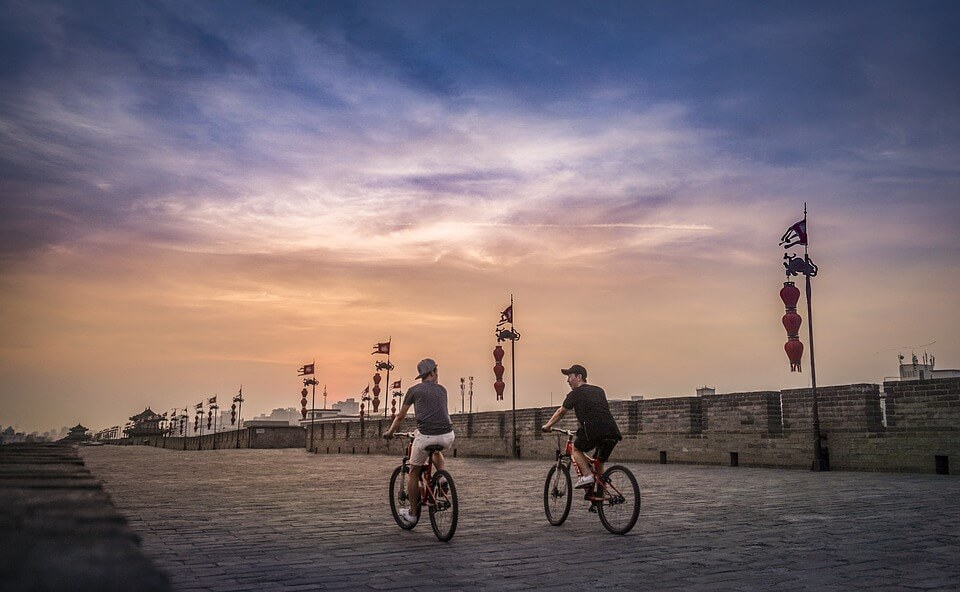 Since Xi'an was a major trading hub in ancient times, the city can boast a strong economy today.
Due to this, Xi'an has one of China's highest GDP per capita.
Aside from trade, Xi'an is also a manufacturing hub for northern China. Many factories and businesses manufacture goods in northern China then ship them to the rest of China for distribution.
This gives Xi'an an economic power above most other Chinese cities.
The significance of the Terracotta Warriors has long been understood by experts and historians. They were made to guard Emperor Qin Shi Huang's tomb after he died for Qin dynasty rule over China.
However, they were never used during Emperor Qin Shi Huang's lifetime. Instead, they were buried with him after his death in 210 BC.
According to legend, they rose from their grave to defend their emperor – to this day, they continue to do so outside his tomb.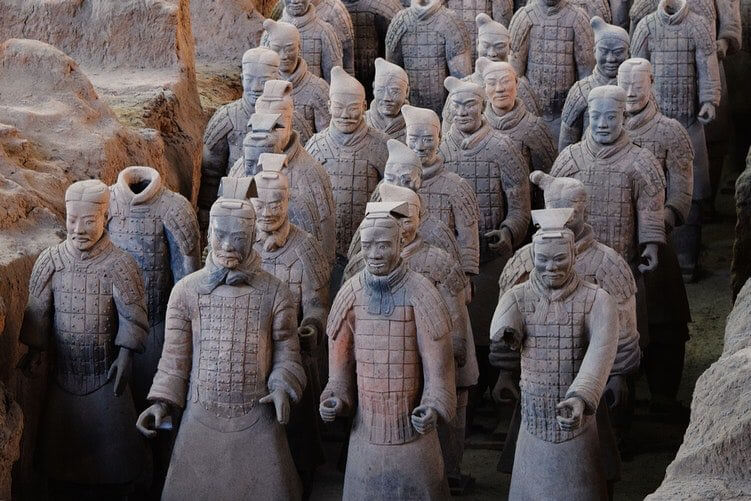 This gives you an idea Xi'an's importance in China.
The city is a famous tourist spot due to all of the above and makes it a must visit city. When you come to China, be sure to have Xi'an right at the top of your itinerary.
BONUS || Find out more about the Terracotta Warriors here or take a deeper look into four famously unanswered questions below…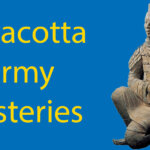 Qin Shi Huang and the Terracotta Army: 4 Unanswered Questions
The discovery of the Terracotta Warriors brought up as many questions as answers. We take a look at some of the strange and grisly mysteries.
What is the Silk Road?
The Silk Road was a long-distance trade route that linked China with Europe and Africa through the Middle East. The road contributed to the diffusion of cultural elements between east and west.
Xi'an, the starting point of the Silk Road, is the hub of the ancient "Cultural Hesia" city region.
Cast your mind back to 138 BC if you can!
Zhang Qian is known as to being the one who founded the Silk Road in this very year. That's quite some time ago and is another reason why China's history is so cherished by many.
DID YOU KNOW || The concept of travel by caravan on a straight but narrow road first appeared in Greco-Buddhist Greece and Rome, whose trade routes crossed into Asia through Central Asia.
The first such route linked China with the Roman Empire via the Khyber Pass in modern Pakistan.
A second such route linked China with the Greek Empire via the Tang Dynasty capital city of Xi'an.
FUN FACT || The Silk Road spans over 6,400 kilometers or 4,000 miles in total.
It passes through over 40 countries in total. Some of these include:
Afghanistan
Cambodia
Egypt
Mongolia
Nepal
Turkey
Pretty long right!?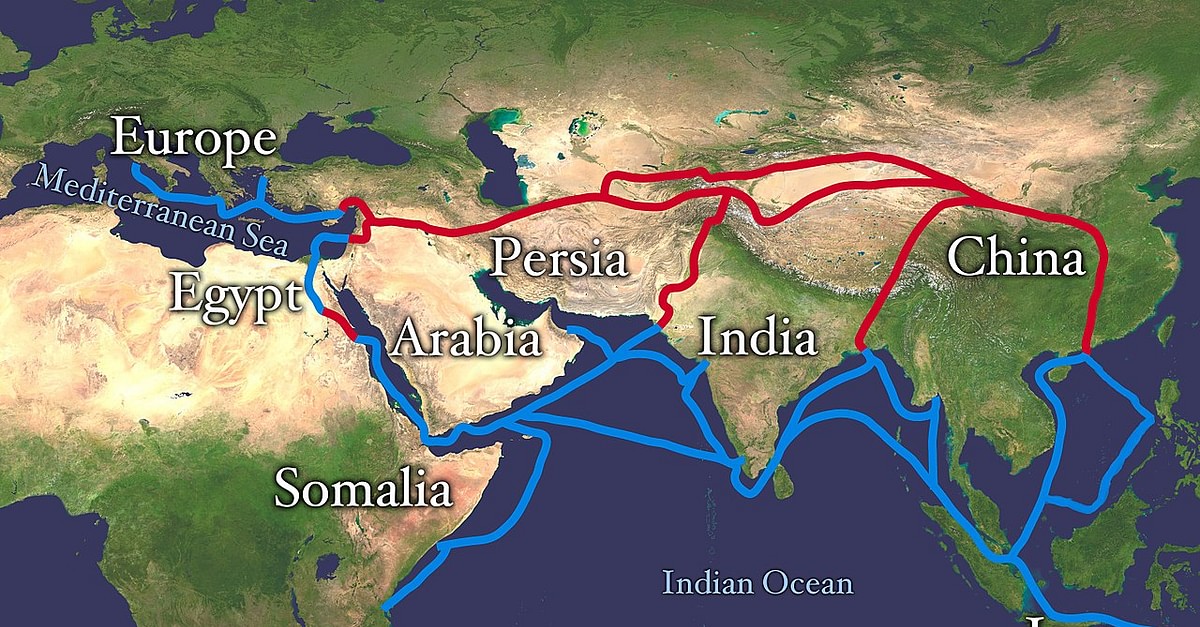 DID YOU KNOW || Interestingly the Silk Road is a term that has gained some disdain from historians who prefer the term Silk Routes. You can see why, given the fact this is far more than just one road – but a whole set of inter-connected routes.
It is clear to see that Xi'an is an important cultural centre within China, not just because it was once a major capital city, but also because it represents a convergence point between east and west through history.
Its Centrality concept makes it an ideal base for cultural exchange between east and west in our modern era.
FUN FACT || Buddhism entered China by the Silk Road. The transmission of Buddhism to China is thought to have begun after 68AD, mainly through the efforts of Emperor Ming.
BONUS | If you enjoy this blog we know you'll also love our guide to the Great Wall of China.
Silk Road | Marco Polo
DID YOU KNOW || Marco Polo traveled along the Silk Road in 1269.
Why…?
He became one of the first to visit China and returned to his home country with many Chinese items.
He is also credited with introducing pasta to Italy for his wife's wedding meal. Make of that what you will!
However, his biggest mistake was agreeing to bring Kublai Khan on his journey back from China.
When Kublai Khan took over China, Marco's own country did not recognize him as its emperor.
---
Although many new trade routes have taken place since the Silk Route began, this one is still famous for its cultural exchange between different regions of the world.
Because it inspired many new trade routes, such communication is even more accessible today than ever before thanks to global travel.
We hope you enjoyed this beginner's guide to the Silk Road. Have any questions? Drop us a comment below.
Silk Road | FAQ's
When was the Silk Road built?

In 138 BC Zhang Qian is known as to being the one who founded the Silk Road.
Who started the Silk Road?

Zhang Qian is considered to be the man who started the foundation of the first Silk Road. 
Which Chinese Dynasty started the Silk Road?

The Silk Road was initiated by China's Han dynasty through exploration and conquests in central Asia.
How long is the Silk Road?

The Silk Road is more than 6,400 km (4,000 miles) long in total.
How many countries did the Silk Road pass through?

As of today's geography, Silk Road is known to have passed through around 40 countries/cities.

Some of these include:

— Afghanistan

— Cambodia

— Egypt

— Mongolia

— Nepal

— Turkey