The Complete Guide to Haidilao Hot Pot
Discover China's Most Famous Hotpot Experience || Haidilao Hot Pot
Whilst I'm certainly no restaurant connoisseur, whenever someone asks me for a restaurant recommendation here in Chinai, I always tell them to try out Haidilao (海底捞), a popular hot pot chain restaurant.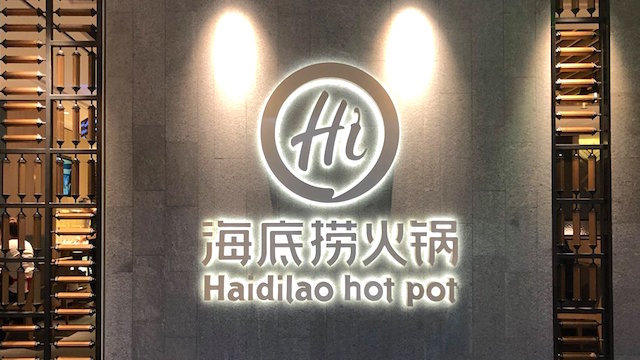 The name literally means "dredge up from the bottom of the ocean", but is used in Sichuan Province when playing mahjong, a Chinese card game, and means good fortune.
Haidilao is a hot pot restaurant with over 450 branches in countries throughout Asia, including mainland China, Hong Kong, Taiwan, Singapore, South Korea, and Japan, as well as Canada, Australia, and America.
What is Hot Pot?
Hot pot, or 火锅 (huǒguō), is a specific style of Chinese cuisine where diners cook their own ingredients in a boiling soup in the middle of the table.
Raw ingredients, including meats, sliced very thin, vegetables, mushrooms, and noodles, are then dipped inside the boiling broth and cooked for anywhere from a few seconds to a few minutes.
All the cooking is done at the table, in the pot of boiling broth.
If you want to learn more about hot pot, check out this blog post!
A Brief History of Haidilao Hot Pot
Haidilao was founded in 1994 in Jianyang, Sichuan Province. Founder and president, Zhang Yong, was born in Sichuan Province.
As a young man, he worked in a factory for low pay and decided to start a restaurant in an attempt to make more money.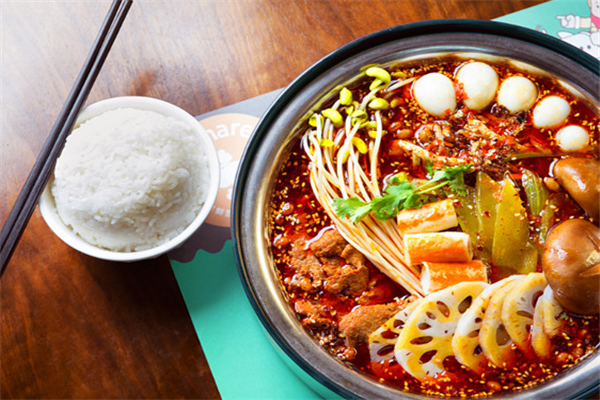 In the beginning, his restaurant started from a malatang booth (má là tàng, 麻辣烫, is a type of hot and spicy soup popular in Sichuan Province) with only four tables and an investment of 10,000 RMB.
Zhang valued his customers' initial feedback highly and made changes to accommodate their tastes and requests.
Eventually he grew a loyal following.
His motto is to put the customers first, and it has paid off–big time! Haidilao has grown from a tiny store to a massive global enterprise, starting in Singapore in 2012 as its first international branch.
Zhang also believes in employing people without higher education and from rural areas. From the lowest positions, every employee is given the chance to be promoted to higher positions within the company.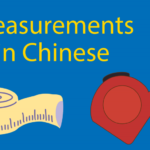 Measurements in Chinese ⚖️ Know Your 厘米 From Your 公里
Measurements in Chinese is 测量 cè liáng. Want to discover 48 more essential words in Mandarin? Come and check out our simple, handy guide to measurements.
What Makes Haidilao Hot Pot So Special?
Hot pot is popular throughout China, so how has Haidilao become so successful and widely known?
Haidilao is unlike other hot pot restaurants in that its customer service is over-the-top! Haidilao is less of a restaurant and more of an experience.
Because Haidilao is so popular, there can be a long wait for a table, especially on weekend evenings.
But Haidilao customers don't wait around, doing nothing, as one would at any other restaurant. At Haidilao, customers are treated to free snacks and drinks while they wait.
While not every branch is the same, the branch I went to also had origami paper and instructions on how to make an origami crane.
To make it even more interesting, many Haidilao locations also offer free manicures to waiting customers! Yes you read that right!
Customers can get their nails done for free, they just have to queue in line.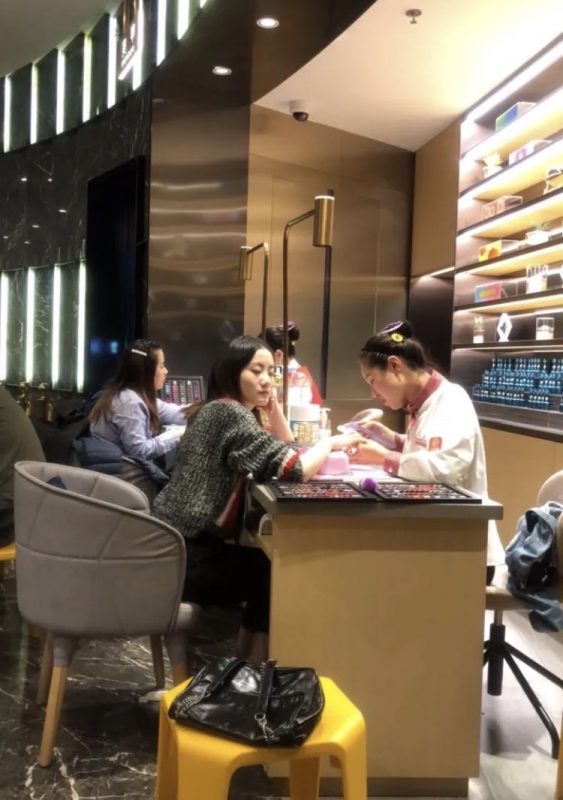 At the branch I visited, there were only two nail technicians, so the line moved slowly, but if you have a long wait ahead of you, you can get your nails painted, free of charge.
At Haidilao, customer service is exceptional beyond the waiting area as well.
Staff members are constantly smiling, bowing, and ready to meet your needs. When you are seated, your purses or bags are put into drawers set into the booth.
You are also provided with aprons, so that hot broth doesn't stain your clothes.
Hair ties to pull back your hair and small plastic baggies to protect your phone are also provided, as well as complimentary appetizers before you order.
If you order noodles, a Haidilao employee comes out with the noodle dough and pulls it in front of the table, doing a short but elaborate sort of dance, before putting the noodles in the soup. So a meal at Haidilao is also almost like a show!
You might expect a place that offers free manicures to make up for it in wildly upscale prices, but that isn't the case.
I found that eating at Haidilao isn't particularly expensive. When I went, I spent around 90 RMB just for myself. You could find much more expensive food at a Western restaurant.
As with all hot pot restaurants, it's best to go in groups, because you can afford to eat a larger variety of foods while splitting the cost with friends.
However, in the case that you are alone, Haidilao provides you with a large stuffed animal, such as a teddy bear, to sit with you while you dine.
How to Order Haidilao Hot Pot
Ordering at Haidilao is made simple by using a provided tablet to scroll through the menu and add items to your cart before ordering.
If you can't read some of the Chinese, don't worry, there are plenty of pictures! But the electronic menu doesn't mean that there is no need for waiters and waitresses.
On the contrary, servers bring out food and constantly check that your meal is satisfactory.
For more on how to read Chinese menus, check out my blog post here!
The first thing to order on the menu is your soup base.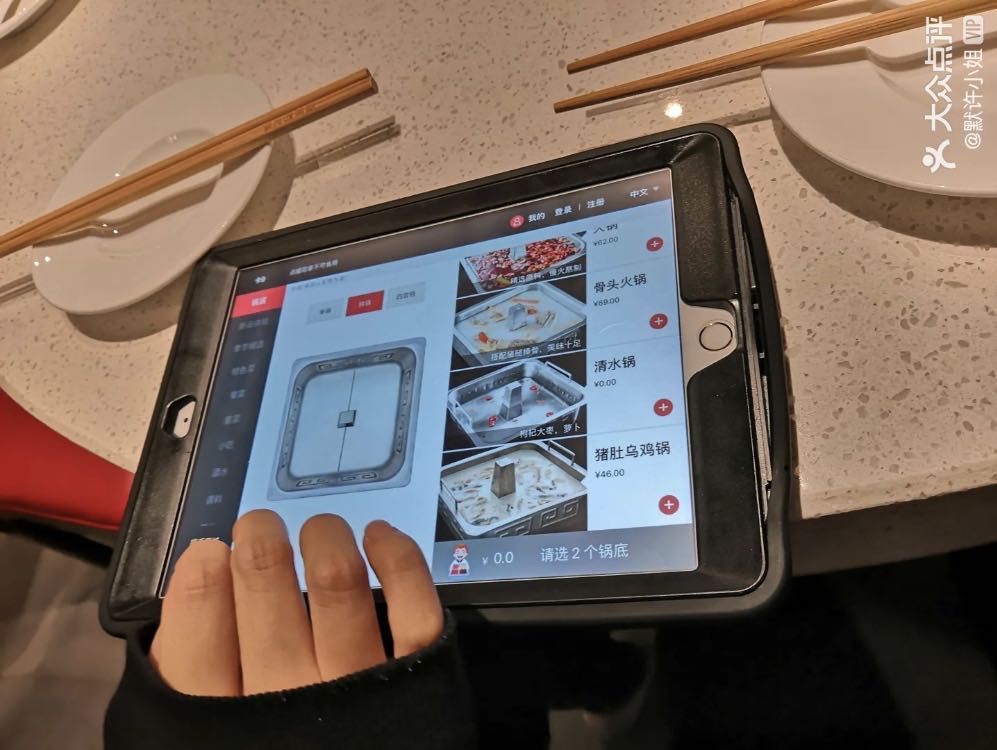 At Haidilao, you can divide your pot into four sections and have four different soup bases. For a vegetarian, such as myself, you can order a tomato soup base, without meat in it.
From there, you can also order different types of sliced meats, such as lamb or beef, vegetables, such as napa cabbage or spinach, mushrooms, potatoes, meatballs, dumplings, fish cakes, or tofu, just to mention a few options.
The menu is huge! There's definitely something for everyone.
One big advantage to hot pot is that you're completely in control of your meal. Since you get all of the food raw and cook it yourself, you know exactly what you're eating. This way, you can avoid getting dishes that have something in them you don't like or don't eat (a situation that is likely to occur at a regular restaurant, when eating family style).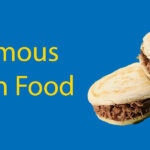 The Foodie's Guide to Xi'an – Famous Xi'an Food
Xi'an Food To Die For – Whether you're spending a day, a month or a year, you'll never run of new foods to try. LTL is here to help you navigate the food of Xi'an.
Cooking and Eating Haidilao Hot Pot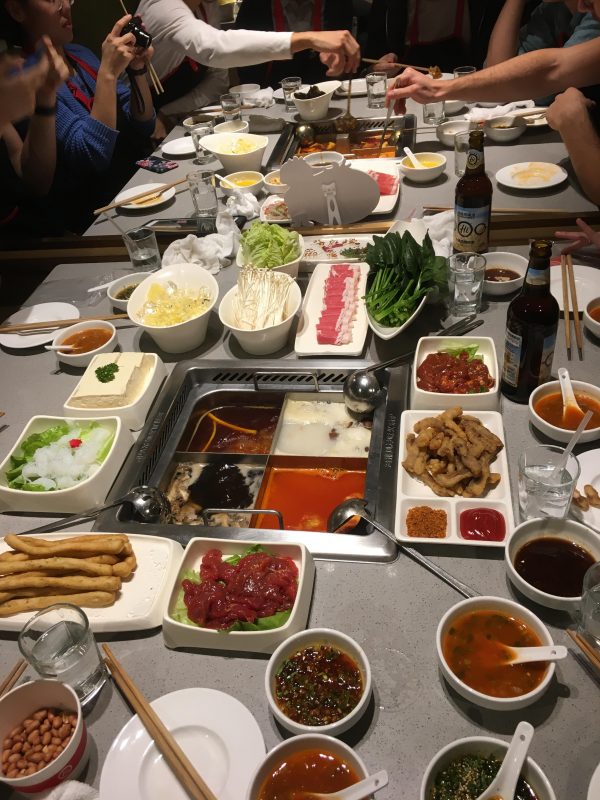 Now that you've ordered, it's time to cook your ingredients!
There should be a guide somewhere on the table for how long different ingredients need to cook for, especially the meats.
So once you get your ingredients, dunk them in the broth and let them simmer away!
You're minutes away from a delicious meal.
In addition to the main dishes of your meal, Haidilao also lets you create a sauce, to dip your cooked vegetables and meats into. The sauce station at Haidilao is incredibly vast.
There are a large variety of different sauces and seasonings, including (but not limited to), chilli oil, soy sauce, sesame oil, cilantro, and sesame seeds.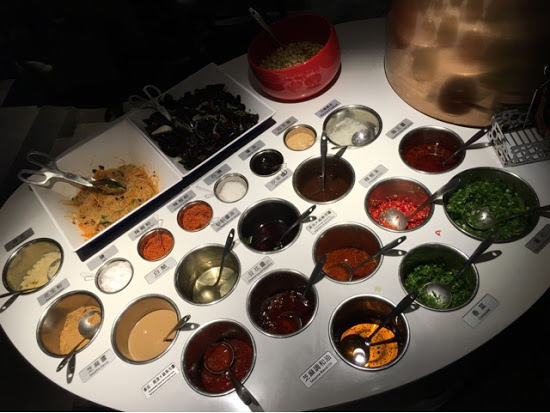 Since boiling food doesn't impart a ton of flavour, the sauce you mix up can be used to add extra flavour to whatever you eat.
Also, the "sauce station" isn't just a sauce station. At this station, you can also fill up a plate with free fruits, such as watermelon, cherry tomatoes, and Chinese dates, or jujube.
Suffice it to say, you definitely won't be going hungry when you eat at Haidilao!
DISCOVER – Our student Catherine tells us about her Haidilao Hot Pot experience.
My Experience at Haidilao Hot Pot
I've been to Haidilao twice but only ate there once.
The first time, I wasn't able to get a table due the long line and my personal time constraints.
However, I was able to enjoy the origami and free snacks while I waited. The service, even just for waiting customers, was incredible!
Servers brought us warm towels for our hands, poured us drinks, and refilled our snacks. There was also a lot of smiling and bowing involved!
The second time I went was on my birthday! The waiter was alerted that it was my birthday, so at the end of the meal, they brought out a surprise.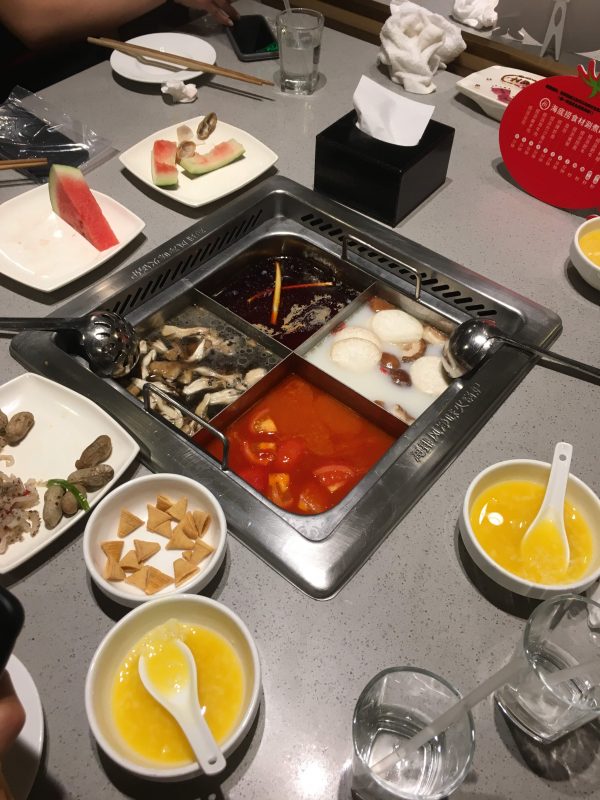 First, they brought out a bowl of birthday noodles, or longevity noodles.
These traditional Chinese noodles are very long, to symbolize a long life, and they are especially eaten on one's birthday.
They also brought out a big plate of various fruits, such as watermelon and dragon fruit.
Not only did they bring food, they also gave me a gift bag; inside there was a packaged Haidilao soup base, a small plastic doll, and a lint roller.
The presents were a little strange but definitely quirky and on-brand for Haidilao's unique style!
Lastly, they sang happy birthday to me and brought out a big birthday sign. So Haidilao is also a great place to celebrate your birthday, if you're in Shanghai (or any city with a Haidilao branch)!
In my opinion, Haidilao food is delicious, but of course some of the experience depends on you–what soup base you order, the sauce you mix up, and the ingredients you choose, since you are the chef!
It's also possible to undercook or overcook ingredients, so just keep an eye on the food–although it's hard to overcook something, since you'll want to eat it as soon as possible!
Have you ever been to Haidilao? What did you think? Leave your thoughts in the comments below!
---
FREQUENTLY ASKED QUESTIONS
What is Haidilao?

Haidilao is a hot pot restaurant with over 450 branches in countries throughout Asia, including mainland China, Hong Kong, Taiwan, Singapore, South Korea, and Japan, as well as Canada, Australia, and America (2).
Where does hot pot come from?

Hot pot is one of the specialities of the province of Sichuan, known for its super spicy hot pot.

However, every region will have its own kind. Differences in hotpot generally lie in the sauces and the meats.
How to eat hot pot?

First you need to choose a soup for your pot, then select meats and vegetables to cook inside.

You can then head over to the "sauce bar". Grab a small bowl and mix ingredients to create your own personalised sauce, flavours include vinegar, BBQ sauce, spicy oils, finely cut herbs and meats, sesames and pastes.
Is Haidilao Hot Pot famous?

Haidilao Hot Pot is indeed a very famous place when it comes to the hot pot experience. If you ever come to China, you absolutely need to go there!
Want more from LTL?
If you wish to hear more from LTL Mandarin School why not join our mailing list.
We give plenty of handy information on learning Chinese, useful apps to learn the language and everything going on at our LTL schools!
Sign up below and become part of our ever growing community!